When you create a new campaign, the content editor that opens is determined by the email template you select from My templates on the "Choose a starting point" page:

NOTE: You can alternatively choose a recent email as your starting point.
If your saved template is an email builder template, it will open in the email builder content editor. If you're working with a custom HTML template, it will open in the custom template content editor, which looks like this: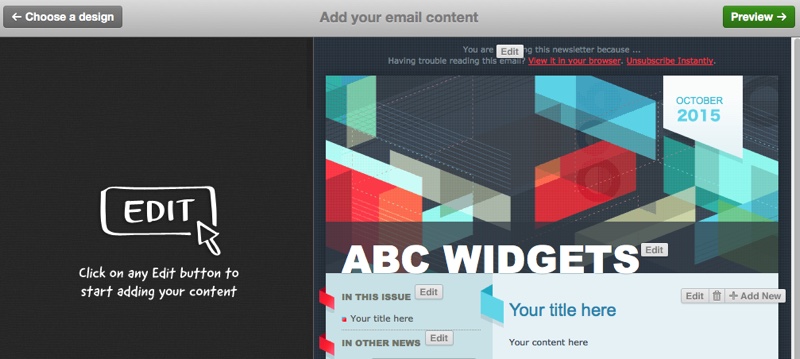 Custom templates utlize a basic content editor, compared to the email builder, because most of your unique styles and branding are hard coded into the template HTML/CSS.
In the custom template content editor, text and images are added by clicking the Edit and Add New buttons positioned above each editable section of the template.
The WYSIWYG content editor includes customization options to change text color and size, and you also have access to edit the source code for a section of copy. Click Source in the editing toolbar to switch views.
From the Insert menu you can add personalization tags, or any custom fields associated with your subscriber list, for example a recipient's membership number or the product or service you're emailing them about.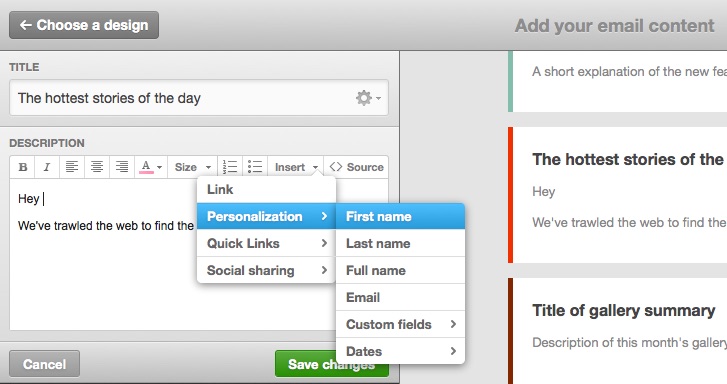 Depending on how your custom template has been designed, there may be sections in the header, footer or elsewhere that you can't edit in custom template content editor. Please contact your account administrator if your template needs updating.